The client
Greater Manchester Fire and Rescue Service (GMFRS)
The brief
I was approached by GMFRS to develop a concept that could be use for their first Fire Plan – a document which outlines the work of GMFRS and to publicise the six priorities and a number of commitments to residents, businesses and partners across Greater Manchester.
In addition to the Fire Plan, they also wanted the look and feel to work for their Annual Delivery Plan (ADP) for the Service. Together, these the two plans fulfil the Service's statutory duty to produce an Integrated Risk Management Plan.
The concept
Using the well established GMFRS brand identity guidelines as a starting point I wanted to make a document that would fit with their current suite of documents, but would also push the boundaries of the rigid guidelines, whilst also showcasing the amazing and brave work of the men and women of GMFRS through the use of photography.
To give a sense of ownership for the plan I proposed that the main ADP was rebranded to "Our Plan" and that the tone of voice and wording reflected that this was something that everyone from the chief down to the fire fighters on the ground and the admin staff at HQ all had a part to play in it. I wanted to make sure that everyone knew they had a part to play and that this wasn't just being forced on them from someone in a position of power.
This "Our" phrase would run through the documents and would tie in with the use of the striking imagery.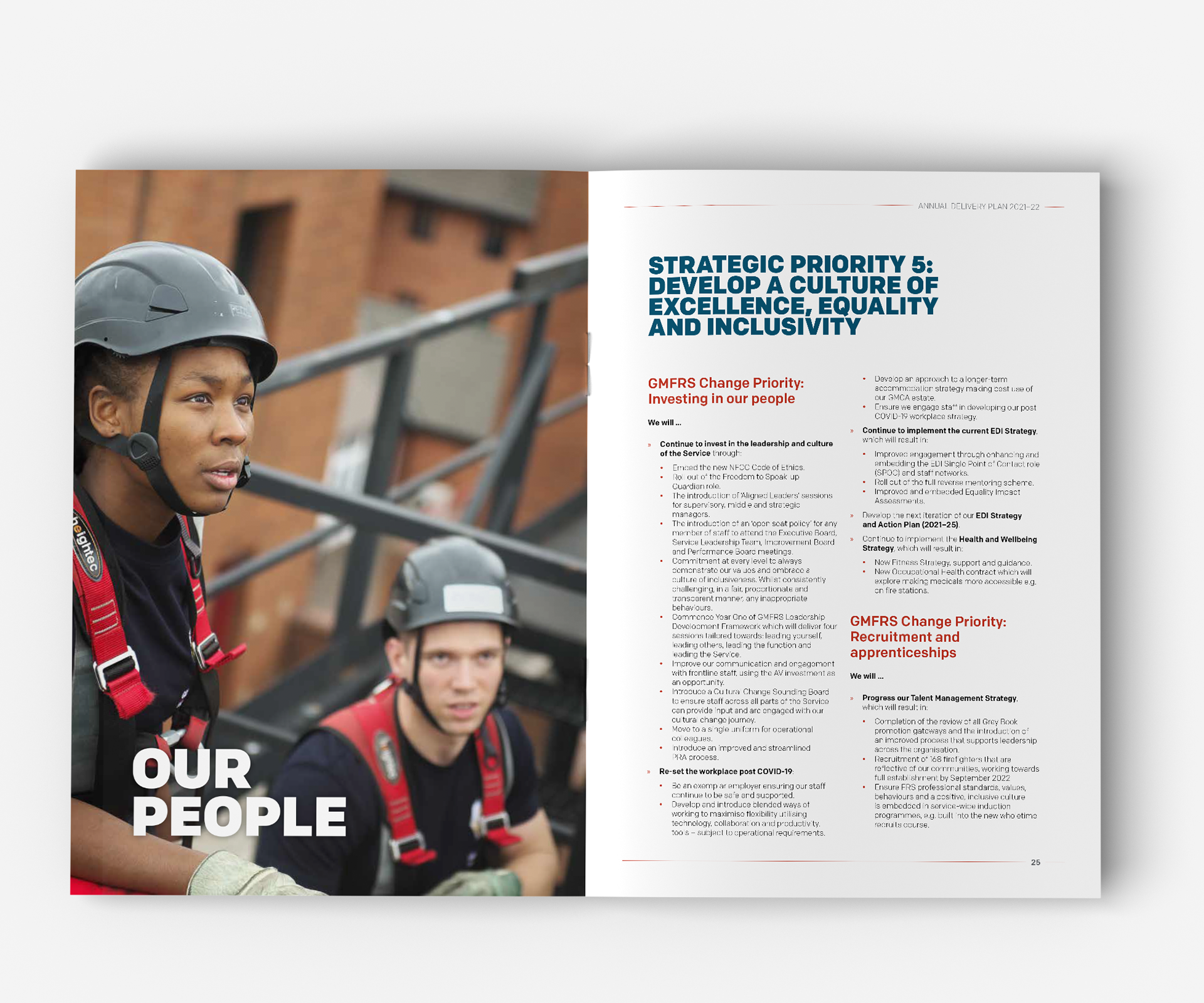 Supporting material
To help support the launch of the Fire Plan and Our Plan I designed an A5 leaflet that would fold out to form an A2 poster. The content was a bite-sized version of the Our Plan document to allow staff at all levels to have a greater understanding of the plan and how they fitted in with it. This would be handed out with the view to either keeping hold of a copy for reference but also to double up as a poster that could be displayed in GMFRS buildings showing the Strategic Priorities.